Poster & Sticker Requests
Poster Requests
Just send us a small poster tube with a self-addressed shipping label and paid return postage inside the poster tube. We'll then fill with posters and send back to you using the paid postage you've included inside.
Here is an example of what to include inside: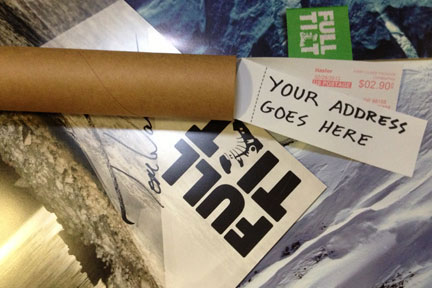 Mail poster requests to:
FULL TILT USA
Attn: Poster Request! ​
413 Pine Street​
3rd Floor ​
Seattle, WA 98101​​​
Sticker Requests
Please send us a standard letter-sized S.A.S.E. (self-addressed, stamped envelope) inside the envelope you mail us, and we'll stuff it with stickers and mail it back to you.
Mail sticker requests to:
FULL TILT USA
Attn: Sticker Request! ​
413 Pine Street​
3rd Floor ​
Seattle, WA 98101​​​